Description
BEE BABY HEAD PROTECTOR
FEATURES AND BENEFITS
Babies and toddlers seem to fall on their heads more than you might think. Whether they're just trying to sit up and fall backward, or they're just starting to learn to walk, the backs of their heads seem to take a beating from colliding with the ground. This unique (and adorably cute) bee backpack for babies and toddlers has a head protector that will protect your baby's heads if they fall backward.
The bee baby head protector slips around your child's shoulders like they're wearing a backpack. The bee head then acts as the circular head protector that soften the blow to their noggin when they fall backward.
Not only does it protect their head from falling backward, but it also helps prevent flat head syndrome when lying down. The hole in the center gives room for their skull to keep its proper shape when they lie on the floor for extended periods of time.
When not protecting their heads , the bee backpack can just look adorably cute while attached to your child. It'll make it look like your child is hauling around a cute little bee on their back. The bee features a yellow and brown shaped back, white little wings on its back, and an opening on the cushion to give their head a little more room to move.
The bee shaped baby head protector is made from cotton, is super soft and breathable, has adjustable shoulder straps that will fit babies 4-24 months old, and comes in a few different animal versions to choose from, including a panda, an owl, a bunny, and more.
Check out the bee shaped baby head protector backpack in action via the video below.
Protection Function: Don't need touch with the baby's head, use breathable alleviate the impact, protect the baby's head and backside
Material: This protection pad is made of great cotton, baby skin-close fabrics, soft and breathable
Lightweight and Cute: Weight 130g, very light and not any pressure on baby's shoulder. The back protector pad has a Unique design, cute appearance, which make your baby a bright spot wherever
Adjustable: the shoulder straps can be adjusted flexibility; Conforms to the baby's size and design with a comfortable feeling
Great protector for your baby: Babies are easy to fall down, hurt their head and shoulder when learning to walk, running, and crawling, this cute small bee protector will help you protect your kids.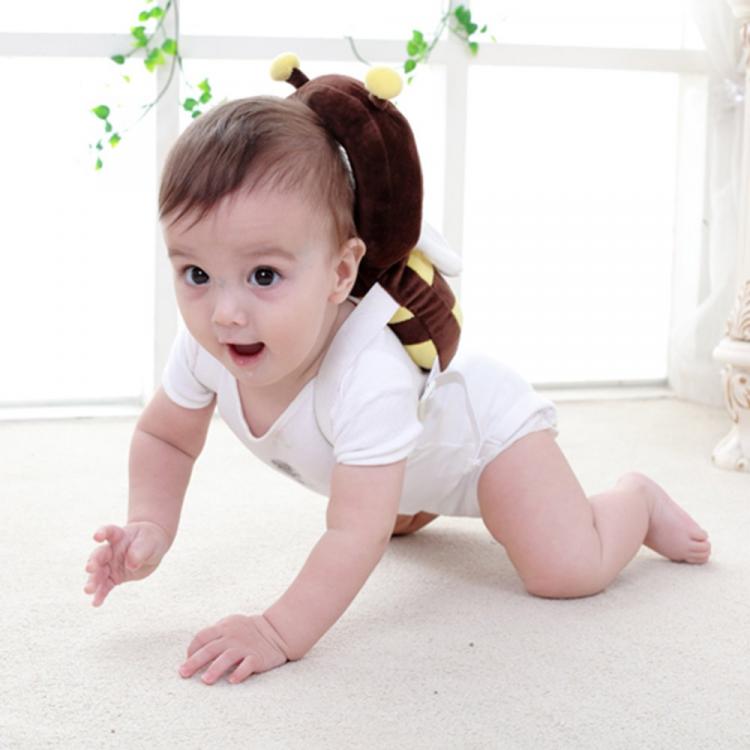 PRODUCT SPECIFICATIONS
PACKAGE CONTENTS
1x BEE BABY HEAD PROTECTOR
Informations Complémentaires
| | |
| --- | --- |
| Color | Yellow Bee L Summer, Blue Bee L Summer, Coffee Bee L, Green Bee L Summer, Ladybird L, Pink Dot L, Blue Dot L, Ladybird S, Coffee Bee S, Black Dot S, Green Dot S, Red Dot S, Blue Dot S, Pink Dot S, Purple Dot S, Coffee Dot S, Coffee Bee L Summer |
Delivery and return
Livraison assurée gratuite : Nous offrons la livraison assurée gratuite
Tous droits & taxes inclus, pas de frais supplémentaires à la livraison
Retours Nous pouvons rembourser ou échanger tout produit momymall à l'état neuf et non porté avec ses étiquettes et son emballage d'origine dans les 30 jours suivant la livraison. Les échanges seront envoyés sur une livraison standard gratuite au Royaume-Uni, dans l'UE ou dans le monde.

Veuillez consulter notre page Livraison et retours pour plus d'informations.