Description
Micro-Needling Derma Pen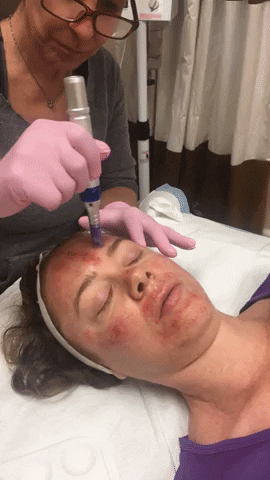 If you've tried all the cosmetics and creams in the world yet are still looking for a more effective way. Micro-Needling Derma Pen is your best assistant, which will leave you feeling and looking better. It's safe to share the host with other persons. Also, it's economical, you just need to replace the cartridges after every use. All cartridges are disposable with sealed packaging. Micro-Needling Derma Pen is safe, hygienic, and convenient.
Our Micro-Needling Derma Pen is an advanced skin micro-needling device that works to tighten, lift and rejuvenate the skin.
The unique spring-loaded needle tip of the Derma Pen uses an automated needling motion that minimizes pain and discomfort, while better-promoting absorption of topical serums, such as PRP, hyaluronic acid, hydrogenated collagen, Vitamin C and peptides into the skin.
The results are youthful, the skin looking more tone and texture. The Derma Pen recently awarded "Best Professional Skin Rejuvenation Device" at the Aesthetic Show 2012. The Dr. pen is effective in reducing fine lines and wrinkles, minimizing pore size and acne scars.
Function:
Automatic high-speed roll(max speed(8000~18000)turn per minute), producing Twelve delivery channels.

Various micro-needle mode to stimulate skin: a. strengthen skin to absorb beauty production, the absorbency of skin can be reached above 40 times, and improve acne scar more than 50%. b.the skin will be luster and elasticity, differ from laser or chemical substances, it is non-invasive, can improve skin and enhances absorption.

The micro-needle of depth can be adjusted(0.25mm-2.0mm), greatly improved the treatment.
FEATURES AND BENEFITS
A. Five different high-speed
B. Easier to operate in small part or radian
C. More quickly and efficient than manual MTS Micro-needle
D. Adjustable length of micro-needles(0.25mm-2.5mm)
E. Because of high-speed vertical movement to reduce pain to a minimum, there is no cross-infection, using one-time disposable needles.
Anti-Puffiness:
Scar removal including acne scar removal or treatment.

Acne Scar Removal, Acne Scar Treatment.
Anti Wrinkle Treatment, Anti Aging.
Hair Loss Treatment or Hair Restoration.
Surgical Scar Removal.
Hyperpigmentation treatment.
Treatment of acne scars and healing wounds.
Advantage

Visual and noticeable improvement in a few days from the first treatment.

Short healing time.

No permanent damage or injury.

No bruising, infection, discoloration or other complications.

Extremely high absorption of any active ingredients.

Almost all skin types can be treated.

Thickens the dermis without damaging or removing epidermis.
DO NOT USE

On open wounds.
On acne or irritated skin.

Discontinue use if irritation occurs.
NOTE
Do not force the roller into the skin, please simply use mild pressure.
For safety correct use, read the manual thoroughly.
Roller obliquely at the same intensity covering the same areas vertically and horizontally.
PACKAGE CONTENTS

1 Rechargeable Derma pen
1 Battery
1 Charger adapter
1 US wall charger
1 USB charger cable
1 instruction manual
1 travel case
2 x 12 pin cartridges
Delivery and return
Livraison assurée gratuite : Nous offrons la livraison assurée gratuite
Tous droits & taxes inclus, pas de frais supplémentaires à la livraison
Retours Nous pouvons rembourser ou échanger tout produit momymall à l'état neuf et non porté avec ses étiquettes et son emballage d'origine dans les 30 jours suivant la livraison. Les échanges seront envoyés sur une livraison standard gratuite au Royaume-Uni, dans l'UE ou dans le monde.

Veuillez consulter notre page Livraison et retours pour plus d'informations.